You can edit something on the page right now!
Register
today, it's fast and free.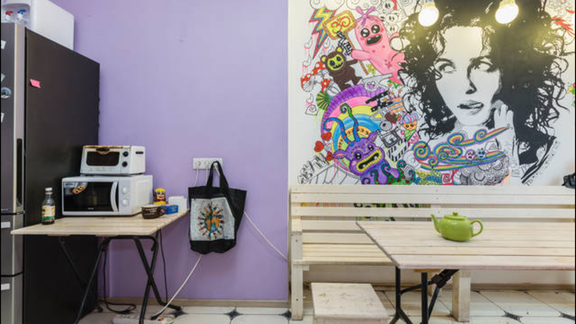 Art-hostel near Kazan Cathedral
Address

Bolshaja Konjushennaja, 10, St Petersburg, Russia

Geo

59.9377926 / 30.3237805

Rating / # Reviews

Category
Koma Hostel offers its guests 10 various rooms: 5 4-bed rooms with bunk beds and 5 double rooms. All the furniture is self-made by Koma Hostel team using environmentally friendly materials. Shower rooms and rest rooms are in the hallway.

Guests can use the washing and dryer machine and other appliances. Free tea and coffee are available throughout the day. Each Koma Hostel guest gets free bed linen and a terry towel.

Guests are welcome to use common amenities - shower rooms, restrooms, lounge area, kitchen, living room and a guest computer.

Koma Hostel staff are always ready to recommend its guests a huge variety of city sights and attractions, the most visited places, and to the easiest ways to get there, as well as unique events and exhibitions for any preference.

Our team of professional staff of Koma Hostel has 5-year experience working in the hospitality and tourism industry. We know how we can make our guests happy. Cozy, relaxing atmosphere in Koma Hostel will make each guest feel at home.


Please Note:

Cancellation policy: 24h before arrival. In case of a late cancellation or No Show, you will be charged the first night of your stay.

Check in from 14:00.
Check out before 12:00.

Payment upon arrival by cash, credit cards, debit cards.

Taxes included.
Breakfast not included.

No curfew.
Child friendly.
Non smoking.
[1]
All information in the above article comes from the below links
All information in the above article comes from the below links
Top Page Editors
Recent Page Activity
© 2017 Everipedia, Inc.