You can edit something on the page right now!
Register
today, it's fast and free.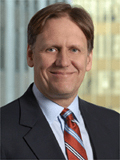 Education

Member, George Washington University Law Review)

The George Washington University (J.D. 1985

The Johns Hopkins University (B.A. 1982)
Eric Maki has extensive experience in the area of corporate finance, with particular emphasis in public offerings and private placements of securities. Eric has represented issuers, underwriters, and investors in a wide variety of public and private offerings (including pursuant to Rule 144A and Regulation S) of debt, equity, preferred stock, and hybrid securities, including high yield offerings, restructurings, tender offers, exchange offers, unit offerings, and other complex transactions. His practice includes substantial representation of foreign private issuers. He also regularly advises domestic and non-U.S. companies with respect to SEC reporting, corporate governance, and securities law compliance matters and advises on the securities aspects of public and private M&A transactions.Eric has recently represented, among others, the following clients in connection with significant securities transactions: Alliant Techsystems; Bank of America; Bestel, S.A. de C.V.; CALPERS; Casa Herradura, S.A. de C.V.; Cascades; Diebold; El Paso Corporation; France Télécom; Frontier Communications; Georgia Gulf; Grupo Dina, S.A. de C.V.; Grupo Simec, S.A. de C.V.; International Steel Group; Procter & Gamble; R.J. Reynolds; Sprint Nextel; and Stewart & Stevenson. [1] 
All information in the above article comes from the below links
All information in the above article comes from the below links
© 2017 Everipedia, Inc.